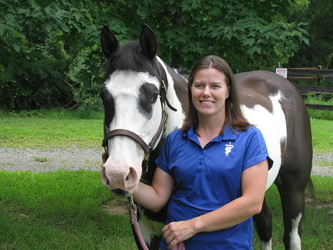 Hill & Harbor Veterinary Services was established in 2016 by Dr. Kathryn Williams, DVM, to provide compassionate care to horses and small ruminants in central and mid-coast Maine.
Routine care is provided during normal business hours and emergencies are seen 24/7. With a 100% mobile practice, services provided include digital radiology, dentistry, ultrasonography, and much more.
Dr. Williams graduated from North Carolina State University College of Veterinary Medicine in 2013 and completed an internship specializing in equine field service at Virginia Tech prior to starting Hill & Harbor Veterinary Service. She incorporates her lifelong experience with horses and a love for working with them and their humans. Growing up, Dr. Williams was an avid eventer and Pony Clubber, earning her graduate "B" rating and competing successfully at the Preliminary level. During her college years, Dr. Williams co-managed a professional dressage training facility where she enjoyed all facets of farm life including horse care, client services, never-ending maintenance and the handling/training of young horses. Though Dr. Williams enjoys all aspects of equine medicine, she has special interests in reproduction, podiatry and geriatric care.
---